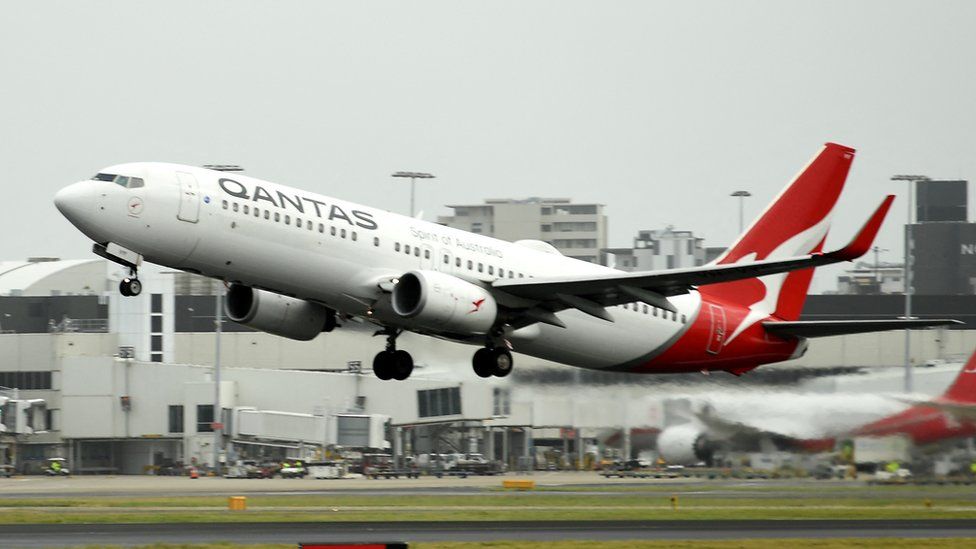 Australia will resume repatriation flights for some citizens in India after a controversial ban on arrivals from the country ends on 15 May.
Prime Minister Scott Morrison has faced criticism for failing to help citizens trapped in the Covid-ravaged nation.
The ban sparked further anger after the government said Australians seeking to fly home could face jail or fines. Mr Morrison later played down this threat.
On Friday, he said they would begin by bringing back "vulnerable" citizens.
About 900 Australians are registered with the government in this group. More than 9,000 Australians are in India in total.
Mr Morrison said he expects the travel ban to end on 15 May. However, his government will wait until next week to make a decision on whether to restart commercial flights from India, which is how most stranded Australians will be able to get home.
Even then, many fear they may find it difficult to secure a seat on a flight, or afford the costly fares.
The tough measures were introduced due to India's escalating Covid crisis. The country is seeing more than 300,000 cases reported each day and hospitals continue to run out of oxygen.
Meanwhile Australia's Trade Minister, Dan Tehan, has said the country's borders may not fully reopen until the middle or second half of 2022. Speaking to Sky News, Mr Tehan said he was hopeful that more travel corridors would be opened, like the one between Australia and New Zealand.
Who will get to fly back first from India?
Mr Morrison said the government was planning three repatriation flights in the second half of May, which would bring back Australians who have registered as "vulnerable".
That group may grow. As the situation in India worsened in the week since the travel ban was announced, the number of vulnerable Australians jumped from 600 people to 900.
Evacuees will be taken to the Howard Springs quarantine facility in the Northern Territory, which will be expanded to provide 2,000 beds by next week.
Australia initially justified the ban by arguing the high rate of infections seen in arrivals from India was putting the quarantine system under stress.
But on Friday, Mr Morrison said the ban had worked to reduce the number of cases in quarantine "back to more manageable levels".
"[We] will be at a level by 15 May to ensure, that as planned, we will be able to return to having those repatriation flights from India."
How has the public reacted?
While Australians have been largely supportive of the government's strict border policies over the past year, the India travel ban sparked significant outcry.
Public anger fixated on the idea that the government had left its citizens in danger, and would punish them if they attempted to return.
Critics – including legal and medical experts – accused the government of abandoning its people.
Many Indian-Australians, among others, also argued the government had enacted a "racist" policy given similarly harsh restrictions weren't applied to arrivals from other high-risk nations.
One prominent voice, cricketer-turned-commentator Michael Slater, wrote a popular tweet accusing the prime minister of having "blood on your hands".
"Take your private jet and come and witness dead bodies on the street," Slater wrote in another tweet.
He was one of about 40 Australians in India for the Indian Premier League cricket competition which was suspended this week.
Australia has enjoyed near-zero infection rates due to strict border and quarantine controls, and contact-tracing measures. Sydney recorded two new local cases this week, prompting authorities to reimpose mask-wearing rules and limits on group gatherings.