Violence in Gaza and Israel shows no sign of abating amid continued rocket fire and air strikes, and civil unrest among Jewish and Israeli Arab mobs.
Deaths continue to mount, with at least 83 people now killed in Gaza and seven in Israel.
A BBC reporter in Gaza said it had been the "longest and most difficult night since the 2014 war". Israel said it had been targeted with 1,600 rockets.
Israel is now mulling a possible ground operation in Gaza.
It has sent reinforcements to the Gaza border.
This is now the worst violence since 2014, fuelled initially by weeks of Israeli-Palestinian tension in East Jerusalem which led to clashes at a holy site revered by both Muslims and Jews. This spiralled into an incessant exchange of Palestinian rocket fire and Israeli airstrikes.
The fear among civilians on both sides is taking its toll.
Najwa Sheikh-Ahmada, a Gaza mother, said of Wednesday night: "You cannot sleep… In any moment your home might be your grave.
"You cannot be secure. As a mother it's very terrifying, it's very exhausting for my feelings, for my humanity," she told the BBC's Today programme.
In Israel, an apartment block was destroyed in the city of Petah Tikva shortly after residents had gone to their bomb shelters.
"We heard an alarm and suddenly there was a bang. Smoke entered the shelter, and the neighbour next to me who was sitting on a chair flew back," one resident told the news website Ynet.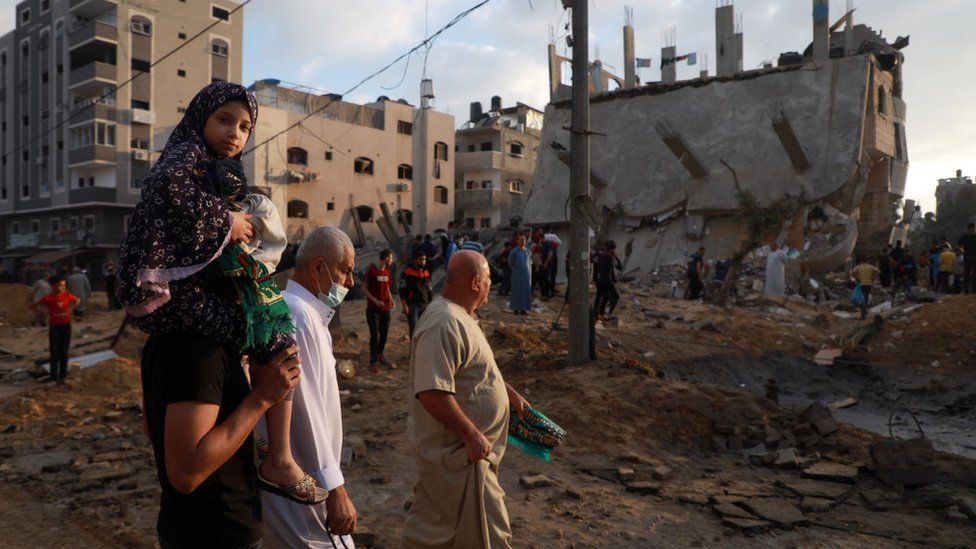 Mohammed Abu Rayya, a doctor living in Gaza told the BBC: "[There are] a lot of deaths, a lot of wounded – children, old women and old men. We cannot sleep at home, we are not feeling safe. Air strikes all over Gaza. There are not any places safe."
Authorities in Gaza, which is controlled by the Islamist militant group Hamas, say many civilians have died, including 17 children.
Israel says dozens of those killed in Gaza were militants, and that some of the deaths are from misfired rockets from Gaza.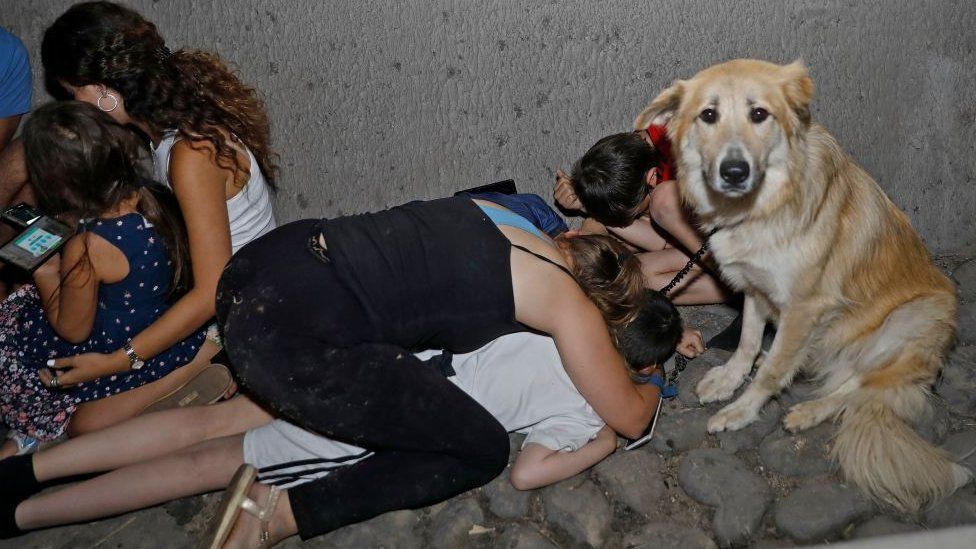 In the Israeli city of Sderot, a young boy was killed when rocket fire from Gaza hit his home, and shrapnel penetrated the shelter he was hiding in.
Ido Avigail was killed yesterday by shrapnel that pierced through the shelter he was in after a direct strike on his home in Sderot. pic.twitter.com/u0Fbi6dP2U

— Anna Ahronheim (@AAhronheim) May 13, 2021

Ground offensive
On Wednesday, the Israeli army will put forward plans for a possible ground offensive in Gaza, which needs to be approved by army chiefs and various levels of government before any operation begins.
Israel has also called up 10 reserve border patrol companies to help tackle the worst unrest between Arab and Jewish communities for many years.
Israeli political leaders have appealed for calm, following the wave of street violence. President Reuven Rivlin described the outbreaks of rioting in several towns and cities as "senseless civil war".
More than 400 people have been arrested, with some as young as 13 years old, Israeli police said.

Israel's 'civil war'
In the West Bank, Palestinians threw stones at Israeli forces, who fired back with bullets
Police vehicles were torched in the central town of Kafr Kassem, AFP news agency reports
There were incidents in the towns of Lod, Acre and Haifa, where Jewish mobs attacked lone Arab men and torched cars
Camera crews broadcast the moment live on public television when a crowd of Jewish Israelis attacked a driver in Bat Yam
Tova Levy, who fled her home in Lod, told the BBC: "I started seeing messages that there was a mob coming out of one of the local mosques. And they started burning things… [It was] really, really shocking"
In Acre, a 37-year-old Jewish man was seriously injured when he was pelted with stones. Israel's Channel 12 television station is reporting the man is a high school teacher who went out looking for his students to stop them taking part in the riots

US President Joe Biden has said he hopes the violence will end "sooner than later" but a ceasefire does not appear immediate.
A senior Hamas official said the group was ready for a "reciprocal" ceasefire if the international community pressures Israel to "suppress military actions" at the disputed Al-Aqsa Mosque in Jerusalem.
Large crowds gathered again at the mosque on Thursday, to mark the first day of the Eid al-Fitr Muslim festival, which signifies the end of the Islamic holy month of Ramadan.
However, Israeli military spokesman Hilda Zilberman said Israel was not seeking a ceasefire at the current time, the Times of Israel reports.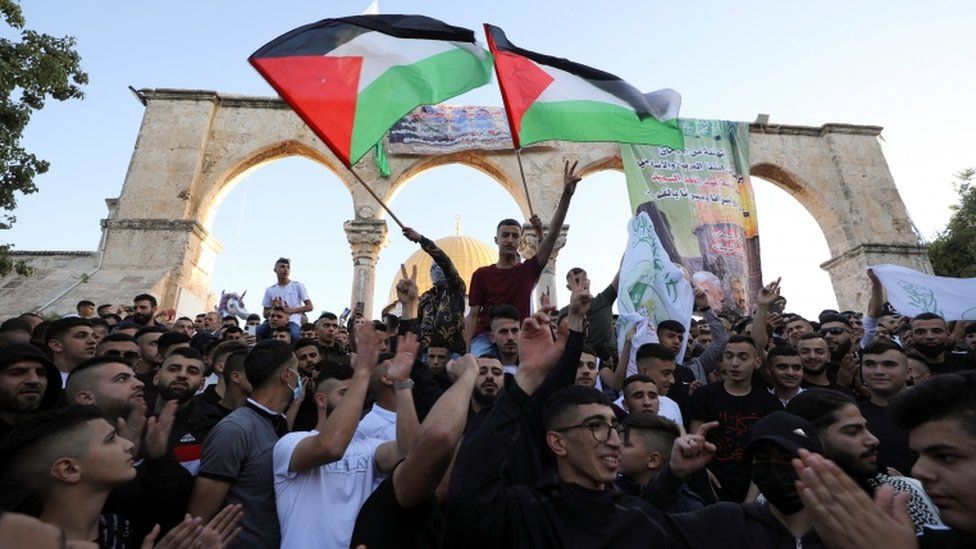 What is the latest on the fighting?
Rockets continued to be fired from the Gaza Strip into Thursday. The Israel Defense Forces (IDF) said they were intercepted by the Iron Dome missile defence system, or crashed into open land.
The IDF said they had struck Hamas targets more than 600 times, and had widened targets – from homes and businesses used by militants, to its treasury, banks and a school – which Hamas was using "to hide a terror tunnel".
A building that Israel said held Hamas military intelligence services was also destroyed.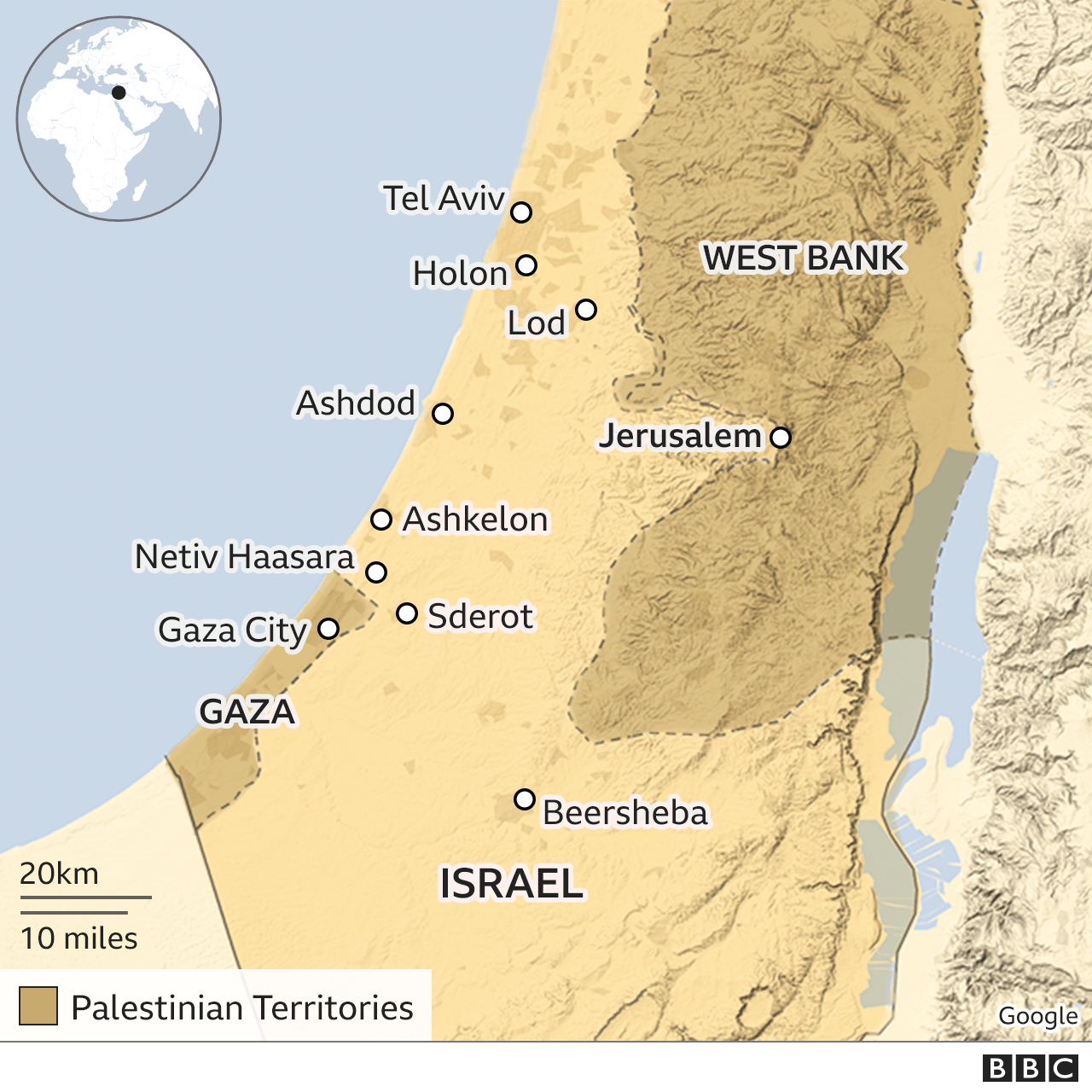 What has caused the violence?
The fighting between Israel and Hamas was triggered by days of escalating clashes between Palestinians and Israeli police at a holy hilltop compound in East Jerusalem.
The site is revered by both Muslims, who call it the Haram al-Sharif (Noble Sanctuary), and Jews, for whom it is known as the Temple Mount. Hamas demanded Israel remove police from there and the nearby predominantly Arab district of Sheikh Jarrah, where Palestinian families face eviction by Jewish settlers. Hamas launched rockets when its ultimatum went unheeded.
Palestinian anger had already been stoked by weeks of rising tension in East Jerusalem, inflamed by a series of confrontations with police since the start of Ramadan in mid-April.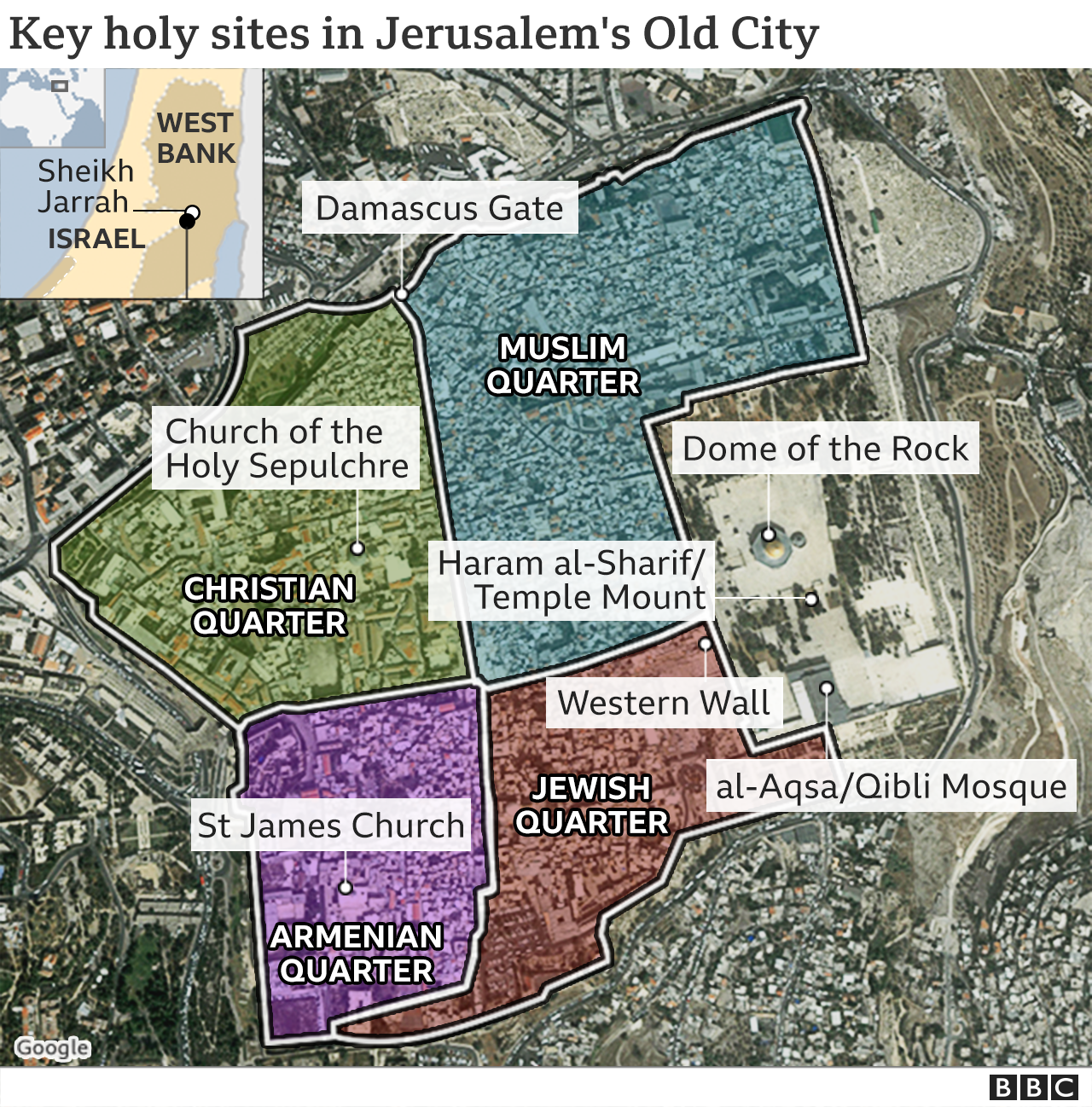 It was further fuelled by the threatened eviction of Palestinian families from their homes in East Jerusalem by Jewish settlers and Israel's annual celebration of its capture of East Jerusalem in the 1967 Middle East war, known as Jerusalem Day.
The fate of the city, with its deep religious and national significance to both sides, lies at the heart of the decades-old Israel-Palestinian conflict. Israel in effect annexed East Jerusalem in 1980 and considers the entire city its capital, though this is not recognised by the vast majority of other countries.
Palestinians claim the eastern half of Jerusalem as the capital of a hoped-for state of their own.

Are you in Israel or Gaza and affected by these events? Please share your story by emailing haveyoursay@bbc.co.uk.
Please include a contact number if you are willing to speak to a BBC journalist. You can also get in touch in the following ways:
If you are reading this page and can't see the form you will need to visit the mobile version of the BBC website to submit your question or comment or you can email us at HaveYourSay@bbc.co.uk. Please include your name, age and location with any submission.