US President Joe Biden has phoned Israeli Prime Minister Benjamin Netanyahu and Palestinian President Mahmoud Abbas after another day of violence in the region.
The international community has called for an end to the escalating conflict.
Earlier, Israeli air strikes in Gaza killed 10 people in a refugee camp and, separately, destroyed a building that housed foreign media organisations.
Hundreds of Palestinian rockets were fired into Israel, causing one death.
The UN Security Council will meet on Sunday to discuss the situation. US envoy Hady Amr has arrived in Tel Aviv to take part in talks with Israeli, Palestinian and UN officials, and reinforce what US diplomats said was the need for a "sustainable calm".
Since the fighting began on Monday at least 145 people have been killed in Gaza, according to Palestinian officials, and Israel has reported 10 dead, including two children. Israel says dozens of militants are among the dead in Gaza, while Palestinian health officials say its death toll includes 41 children.
The flare-up of violence over the last six days came after weeks of spiralling Israeli-Palestinian tension in East Jerusalem, which culminated in clashes at a holy site revered by both Muslims and Jews. Hamas – the Palestinian militant group that runs Gaza – began firing rockets after warning Israel to withdraw from the site, triggering retaliatory air strikes.
How did the fighting escalate on Saturday?
Ten members of one family where killed by an Israeli air strike at a refugee camp west of Gaza City.
A five-month-old baby, Omar Al-Hadidi, was the only survivor, after his mother, four siblings, aunt and four cousins died.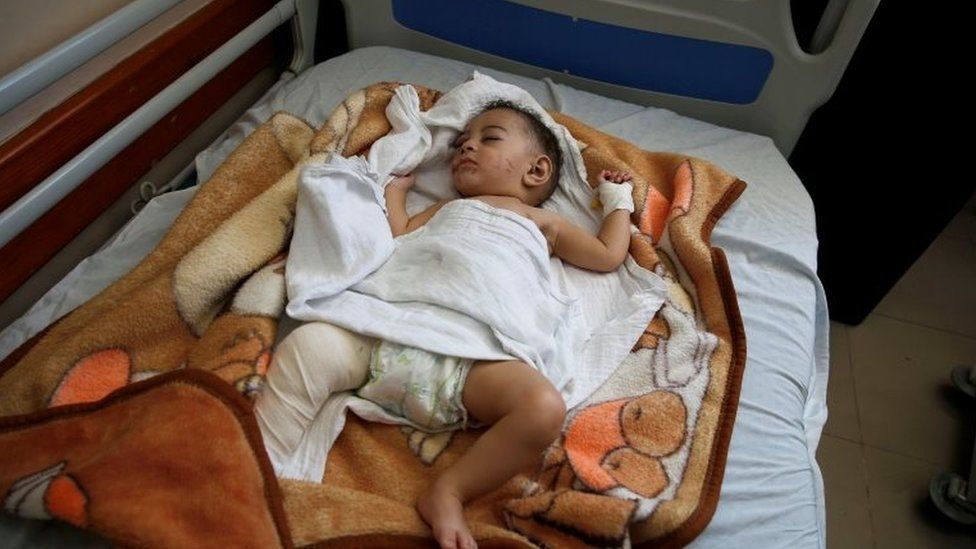 The baby's father, Mohammad Al-Hadidi, was not at home at the time. "There were no rockets there, just women and children, no rockets, just peaceful children celebrating [Muslim festival] Eid, what have they done to deserve this?" he told Reuters news agency.
A doctor treating Omar said: "He was in a bad condition. His thigh bone is broken and he has bruises all over his body but thankfully after first inspection he is stable."
The Israel Defense Forces (IDF) said Palestinian militants had fired 278 rocket launches from Gaza, with homes hit in the southern cities of Ashdod, Beersheba and Sderot.
A rocket hit a street in Ramat Gan, a suburb of Tel Aviv, killing a man. He was reportedly hit by shrapnel in his apartment.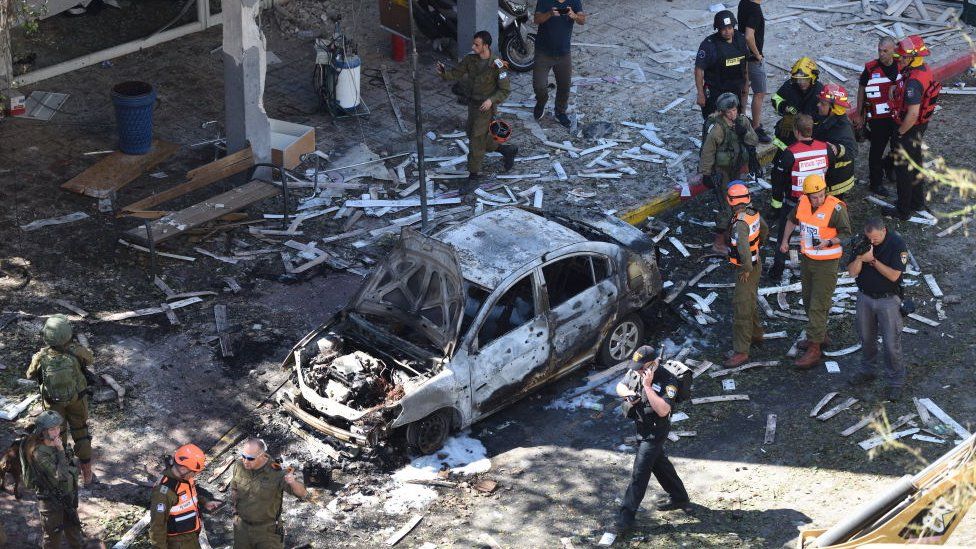 On Saturday evening, Prime Minister Netanyahu said Israel would "continue to respond forcefully", insisting care was being taken to limit civilian casualties.
What happened to the Gaza tower block?
Earlier in the day, an Israeli air strike destroyed a high-rise building housing media organisations, including The Associated Press and Al-Jazeera, plus a number of offices and apartments.
In a statement released shortly afterwards, the Israeli military said the building housed military assets belonging to Hamas, the Palestinian militant group that rules Gaza. The building's landlord has denied this.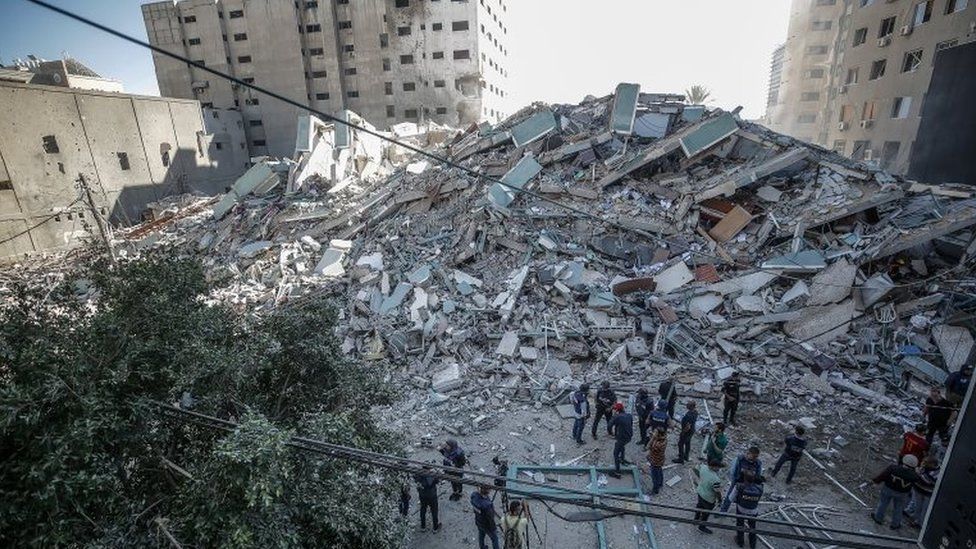 The Associated Press (AP) said the block was hit roughly an hour after Israeli forces ordered people to evacuate.
The news organisation's CEO, Gary Pruitt, said: "This is an incredibly disturbing development. We narrowly avoided a terrible loss of life. A dozen AP journalists and freelancers were inside the building and thankfully we were able to evacuate them in time."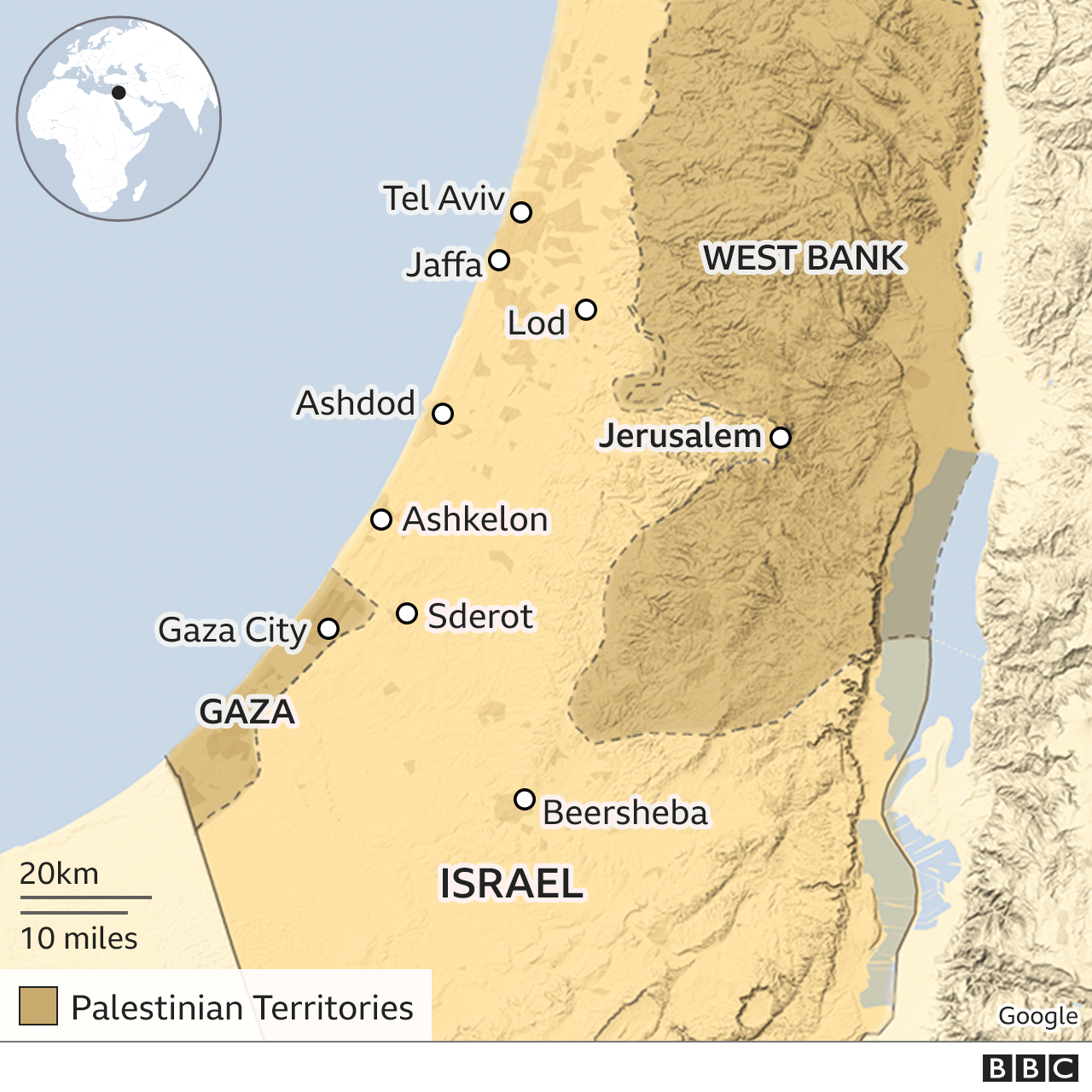 Both sides need to be able to say they've won
The end games in the wars between Hamas and Israel have followed a pattern since Hamas seized control of Gaza in 2007.
Foreign mediators have thrashed out a variety of ceasefires. That's what the Americans, Egyptians, the UN and others are trying to do now.
For that to work, both sides need to be able to tell their people they've won.
Hamas will want to say that it is the real protector of Palestinian rights, not just in Gaza but also in the occupied West Bank including Jerusalem.
Israel will want to show its people that it has done serious damage to the Hamas infrastructure. A much used phrase is "restore deterrence". That means showing their enemies that hitting Israel will only bring pain and suffering.
Both sides will struggle to find words for bereaved families or traumatised children.

@-moz-keyframes gel-spin{0%{-moz-transform:rotate(0deg)}100%{-moz-transform:rotate(360deg)}}@-webkit-keyframes gel-spin{0%{-webkit-transform:rotate(0deg)}100%{-webkit-transform:rotate(360deg)}}@-ms-keyframes gel-spin{0%{-ms-transform:rotate(0deg)}100%{-ms-transform:rotate(360deg)}}@keyframes gel-spin{0%{transform:rotate(0deg)}100%{transform:rotate(360deg)}}.bbc-news-visual-journalism-loading-spinner{display:block;margin:8px auto;width:32px;height:32px;max-width:32px;fill:#323232;-webkit-animation-name:gel-spin;-webkit-animation-duration:1s;-webkit-animation-iteration-count:infinite;-webkit-animation-timing-function:linear;-moz-animation-name:gel-spin;-moz-animation-duration:1s;-moz-animation-iteration-count:infinite;-moz-animation-timing-function:linear;animation-name:gel-spin;animation-duration:1s;animation-iteration-count:infinite;animation-timing-function:linear}
@font-face{font-display:swap;font-family:"ReithSans";src:url("https://gel.files.bbci.co.uk/r2.512/BBCReithSans_W_Rg.woff2") format("woff2"),url("https://gel.files.bbci.co.uk/r2.512/BBCReithSans_W_Rg.woff") format("woff")}@font-face{font-display:swap;font-family:"ReithSans";font-style:italic;src:url("https://gel.files.bbci.co.uk/r2.512/BBCReithSans_W_It.woff2") format("woff2"),url("https://gel.files.bbci.co.uk/r2.512/BBCReithSans_W_It.woff") format("woff")}@font-face{font-display:swap;font-family:"ReithSans";font-weight:bold;src:url("https://gel.files.bbci.co.uk/r2.512/BBCReithSans_W_Bd.woff2") format("woff2"),url("https://gel.files.bbci.co.uk/r2.512/BBCReithSans_W_Bd.woff") format("woff")}@font-face{font-display:swap;font-family:"ReithSans";font-style:italic;font-weight:bold;src:url("https://gel.files.bbci.co.uk/r2.512/BBCReithSans_W_BdIt.woff2") format("woff2"),url("https://gel.files.bbci.co.uk/r2.512/BBCReithSans_W_BdIt.woff") format("woff")}@font-face{font-display:swap;font-family:"ReithSans";font-weight:300;src:url("https://gel.files.bbci.co.uk/r2.512/BBCReithSans_W_Lt.woff2") format("woff2"),url("https://gel.files.bbci.co.uk/r2.512/BBCReithSans_W_Lt.woff") format("woff")}@font-face{font-display:swap;font-family:"ReithSans";font-style:italic;font-weight:300;src:url("https://gel.files.bbci.co.uk/r2.512/BBCReithSans_W_LtIt.woff2") format("woff2"),url("https://gel.files.bbci.co.uk/r2.512/BBCReithSans_W_LtIt.woff") format("woff")}@font-face{font-display:swap;font-family:"ReithSans";font-weight:500;src:url("https://gel.files.bbci.co.uk/r2.512/BBCReithSans_W_Md.woff2") format("woff2"),url("https://gel.files.bbci.co.uk/r2.512/BBCReithSans_W_Md.woff") format("woff")}@font-face{font-display:swap;font-family:"ReithSans";font-style:italic;font-weight:500;src:url("https://gel.files.bbci.co.uk/r2.512/BBCReithSans_W_MdIt.woff2") format("woff2"),url("https://gel.files.bbci.co.uk/r2.512/BBCReithSans_W_MdIt.woff") format("woff")}@font-face{font-display:swap;font-family:"ReithSans";font-weight:800;src:url("https://gel.files.bbci.co.uk/r2.512/BBCReithSans_W_ExBd.woff2") format("woff2"),url("https://gel.files.bbci.co.uk/r2.512/BBCReithSans_W_ExBd.woff") format("woff")}@font-face{font-display:swap;font-family:"ReithSans";font-style:italic;font-weight:800;src:url("https://gel.files.bbci.co.uk/r2.512/BBCReithSans_W_ExBdIt.woff2") format("woff2"),url("https://gel.files.bbci.co.uk/r2.512/BBCReithSans_W_ExBdIt.woff") format("woff")}@font-face{font-display:swap;font-family:"ReithSerif";src:url("https://gel.files.bbci.co.uk/r2.512/BBCReithSerif_W_Rg.woff2") format("woff2"),url("https://gel.files.bbci.co.uk/r2.512/BBCReithSerif_W_Rg.woff") format("woff")}@font-face{font-display:swap;font-family:"ReithSerif";font-style:italic;src:url("https://gel.files.bbci.co.uk/r2.512/BBCReithSerif_W_It.woff2") format("woff2"),url("https://gel.files.bbci.co.uk/r2.512/BBCReithSerif_W_It.woff") format("woff")}@font-face{font-display:swap;font-family:"ReithSerif";font-weight:bold;src:url("https://gel.files.bbci.co.uk/r2.512/BBCReithSerif_W_Bd.woff2") format("woff2"),url("https://gel.files.bbci.co.uk/r2.512/BBCReithSerif_W_Bd.woff") format("woff")}@font-face{font-display:swap;font-family:"ReithSerif";font-style:italic;font-weight:bold;src:url("https://gel.files.bbci.co.uk/r2.512/BBCReithSerif_W_BdIt.woff2") format("woff2"),url("https://gel.files.bbci.co.uk/r2.512/BBCReithSerif_W_BdIt.woff") format("woff")}@font-face{font-display:swap;font-family:"ReithSerif";font-weight:300;src:url("https://gel.files.bbci.co.uk/r2.512/BBCReithSerif_W_Lt.woff2") format("woff2"),url("https://gel.files.bbci.co.uk/r2.512/BBCReithSerif_W_Lt.woff") format("woff")}@font-face{font-display:swap;font-family:"ReithSerif";font-style:italic;font-weight:300;src:url("https://gel.files.bbci.co.uk/r2.512/BBCReithSerif_W_LtIt.woff2") format("woff2"),url("https://gel.files.bbci.co.uk/r2.512/BBCReithSerif_W_LtIt.woff") format("woff")}@font-face{font-display:swap;font-family:"ReithSerif";font-weight:500;src:url("https://gel.files.bbci.co.uk/r2.512/BBCReithSerif_W_Md.woff2") format("woff2"),url("https://gel.files.bbci.co.uk/r2.512/BBCReithSerif_W_Md.woff") format("woff")}@font-face{font-display:swap;font-family:"ReithSerif";font-style:italic;font-weight:500;src:url("https://gel.files.bbci.co.uk/r2.512/BBCReithSerif_W_MdIt.woff2") format("woff2"),url("https://gel.files.bbci.co.uk/r2.512/BBCReithSerif_W_MdIt.woff") format("woff")}@font-face{font-display:swap;font-family:"ReithSerif";font-weight:800;src:url("https://gel.files.bbci.co.uk/r2.512/BBCReithSerif_W_ExBd.woff2") format("woff2"),url("https://gel.files.bbci.co.uk/r2.512/BBCReithSerif_W_ExBd.woff") format("woff")}@font-face{font-display:swap;font-family:"ReithSerif";font-style:italic;font-weight:800;src:url("https://gel.files.bbci.co.uk/r2.512/BBCReithSerif_W_ExBdIt.woff2") format("woff2"),url("https://gel.files.bbci.co.uk/r2.512/BBCReithSerif_W_ExBdIt.woff") format("woff")}