The UN, US and UK have called for more protection for the civilians caught in intense violence between Israel and Palestinian militants.
Footage of children being pulled from the rubble in Gaza and people running for shelter in Israel have sparked international alarm.
The conflict is now in its second week, with little sign of a ceasefire.
More than 200 people, including 59 children, have died in Gaza, and 10, including two children, in Israel.
Israel says most of those killed in Gaza are militants and that any civilian deaths are unintentional.
Hamas, the militant group that runs the territory, does not acknowledge this.
In the early hours of Monday, Israel conducted dozens more air strikes on the Gaza Strip, after Palestinian militants fired barrages of rockets at southern Israeli cities.
There is mounting international concern over the violence, with world leaders and humanitarian organisations urging for measures to be taken to avoid residents being hurt, killed, or having their lives upended by the destruction.
In the UK, Prime Minister Boris Johnson's spokesman said Israel must avoid civilian causalities, but expressed concern that "Hamas is again using civilian infrastructure and populations as cover for its operations".
US Secretary of State Antony Blinken urged both sides to protect civilians, especially children, while reiterating that Israel "as a democracy has an extra burden" to do so.
The United Nations has also expressed concerns about the damage to infrastructure in the already impoverished Gaza Strip, home to two million people. It said that 40 schools and four hospitals had been "completely or partially destroyed" in recent days. It also warned that fuel supplies there were running out, threatening basic services.
The World Health Organization's emergencies chief, Dr Mike Ryan, said all attacks on healthcare needed to stop immediately.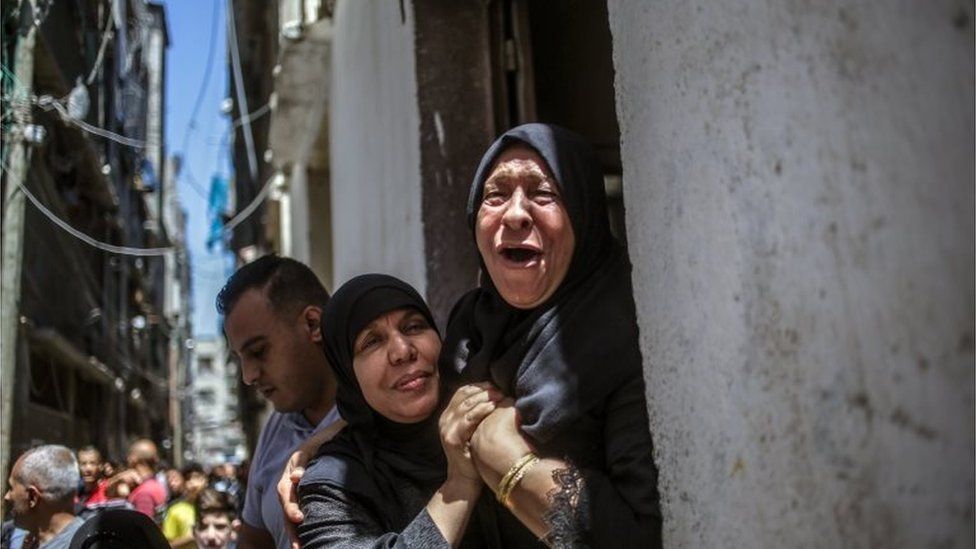 German Chancellor Angela Merkel has called for an end to the fighting, while speaking with Israeli Prime Minister Benjamin Netanyahu.
However, she reaffirmed Israel's right to defend itself against the attacks, according to her spokesman.
France and Egypt are among the other nations calling for an immediate ceasefire.
The outbreak in violence began after weeks of rising Israeli-Palestinian tension in occupied East Jerusalem that culminated in clashes at a holy site revered by both Muslims and Jews. Hamas, which controls Gaza, began firing rockets after warning Israel to withdraw from the site, triggering retaliatory air strikes.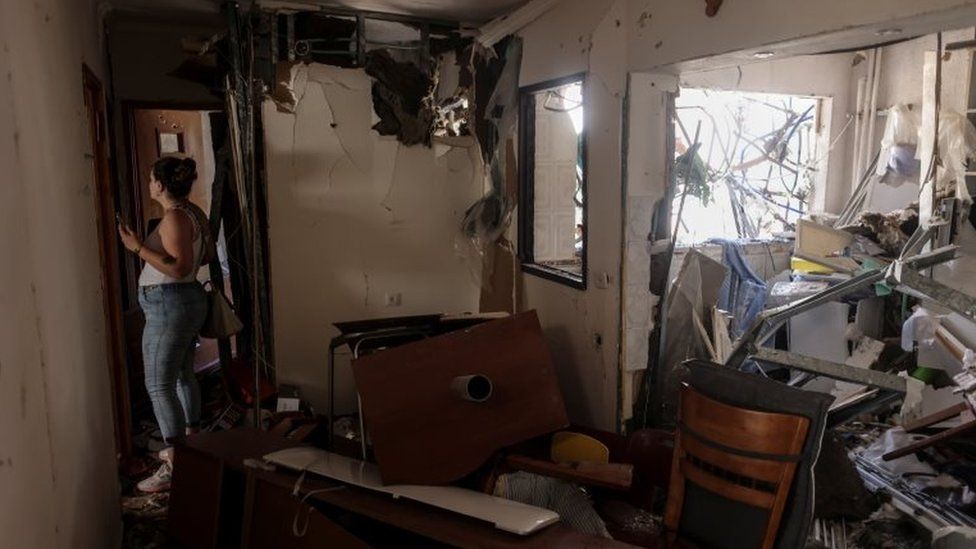 The clock is ticking for Israel
By Paul Adams, BBC diplomatic correspondent, Jerusalem
Israel is not done in Gaza. There is every sign that its military strikes will continue for some time.
Officials describe a phased series of attacks, with the overall aim of destroying as much of Hamas's infrastructure and manpower as possible in the time available.
And how much time is available? Secretary of State Antony Blinken said last night that "the violence must end immediately".
But President Joe Biden has so far backed Mr Netanyahu, saying Israel has the right to defend itself. And the US has – for the third time – blocked efforts at the UN Security Council to issue a statement calling on Israel to stop.
Mr Netanyahu knows that he still has time to achieve more in Gaza, provided Israel can avoid killing too many more civilians.
As many as 40,000 civilians have been forced from their homes and the UN is warning of a worsening humanitarian situation. The clock is ticking.

What was the latest violence?
The pre-dawn raids on Gaza on Monday were some of the heaviest seen since the fighting began a week ago.
People in Gaza have told of their fear. "I was getting ready to die. I had to be at peace with it," Najla Shawa, a Palestinian humanitarian worker and mother of two, told the BBC.
The Israeli military said it struck 35 "terror targets" and destroyed more than 15km (nine miles) of an underground tunnel network belonging to Hamas.
Israel says a senior commander of the separate Islamic Jihad group, Hussam Abu -Harbeed, was killed in one of the strikes.
Palestinian officials in Gaza, meanwhile, said the overnight strikes had caused widespread power cuts and damaged hundreds of homes and other buildings. They upped their overall injury toll to 1,305 people.
Rocket warning sirens sounded again in several areas around southern Israel. One rocket hit an apartment building in the city of Ashdod and several people were reportedly hurt.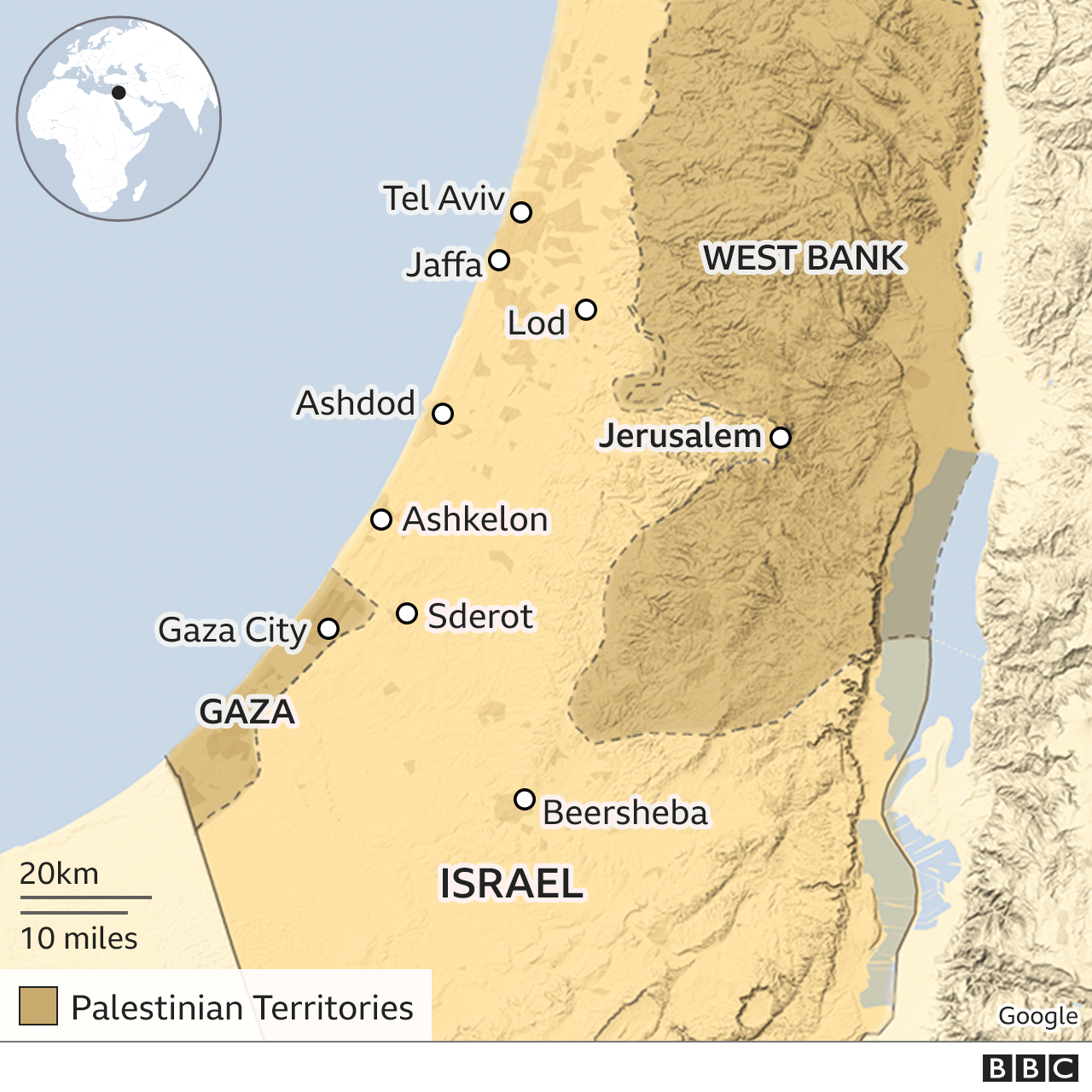 Israel said more than 3,000 rockets have been fired into the country over the past week, called this an unprecedented number.
Israeli emergency services reported an overall total of 309 injuries, with six people in a severe condition.
One person has also died of wounds sustained during riots in Israel. Clashes between Arab and Jewish Israelis have left an additional 193 people injured, 10 severely.

@-moz-keyframes gel-spin{0%{-moz-transform:rotate(0deg)}100%{-moz-transform:rotate(360deg)}}@-webkit-keyframes gel-spin{0%{-webkit-transform:rotate(0deg)}100%{-webkit-transform:rotate(360deg)}}@-ms-keyframes gel-spin{0%{-ms-transform:rotate(0deg)}100%{-ms-transform:rotate(360deg)}}@keyframes gel-spin{0%{transform:rotate(0deg)}100%{transform:rotate(360deg)}}.bbc-news-visual-journalism-loading-spinner{display:block;margin:8px auto;width:32px;height:32px;max-width:32px;fill:#323232;-webkit-animation-name:gel-spin;-webkit-animation-duration:1s;-webkit-animation-iteration-count:infinite;-webkit-animation-timing-function:linear;-moz-animation-name:gel-spin;-moz-animation-duration:1s;-moz-animation-iteration-count:infinite;-moz-animation-timing-function:linear;animation-name:gel-spin;animation-duration:1s;animation-iteration-count:infinite;animation-timing-function:linear}
@font-face{font-display:swap;font-family:"ReithSans";src:url("https://gel.files.bbci.co.uk/r2.512/BBCReithSans_W_Rg.woff2") format("woff2"),url("https://gel.files.bbci.co.uk/r2.512/BBCReithSans_W_Rg.woff") format("woff")}@font-face{font-display:swap;font-family:"ReithSans";font-style:italic;src:url("https://gel.files.bbci.co.uk/r2.512/BBCReithSans_W_It.woff2") format("woff2"),url("https://gel.files.bbci.co.uk/r2.512/BBCReithSans_W_It.woff") format("woff")}@font-face{font-display:swap;font-family:"ReithSans";font-weight:bold;src:url("https://gel.files.bbci.co.uk/r2.512/BBCReithSans_W_Bd.woff2") format("woff2"),url("https://gel.files.bbci.co.uk/r2.512/BBCReithSans_W_Bd.woff") format("woff")}@font-face{font-display:swap;font-family:"ReithSans";font-style:italic;font-weight:bold;src:url("https://gel.files.bbci.co.uk/r2.512/BBCReithSans_W_BdIt.woff2") format("woff2"),url("https://gel.files.bbci.co.uk/r2.512/BBCReithSans_W_BdIt.woff") format("woff")}@font-face{font-display:swap;font-family:"ReithSans";font-weight:300;src:url("https://gel.files.bbci.co.uk/r2.512/BBCReithSans_W_Lt.woff2") format("woff2"),url("https://gel.files.bbci.co.uk/r2.512/BBCReithSans_W_Lt.woff") format("woff")}@font-face{font-display:swap;font-family:"ReithSans";font-style:italic;font-weight:300;src:url("https://gel.files.bbci.co.uk/r2.512/BBCReithSans_W_LtIt.woff2") format("woff2"),url("https://gel.files.bbci.co.uk/r2.512/BBCReithSans_W_LtIt.woff") format("woff")}@font-face{font-display:swap;font-family:"ReithSans";font-weight:500;src:url("https://gel.files.bbci.co.uk/r2.512/BBCReithSans_W_Md.woff2") format("woff2"),url("https://gel.files.bbci.co.uk/r2.512/BBCReithSans_W_Md.woff") format("woff")}@font-face{font-display:swap;font-family:"ReithSans";font-style:italic;font-weight:500;src:url("https://gel.files.bbci.co.uk/r2.512/BBCReithSans_W_MdIt.woff2") format("woff2"),url("https://gel.files.bbci.co.uk/r2.512/BBCReithSans_W_MdIt.woff") format("woff")}@font-face{font-display:swap;font-family:"ReithSans";font-weight:800;src:url("https://gel.files.bbci.co.uk/r2.512/BBCReithSans_W_ExBd.woff2") format("woff2"),url("https://gel.files.bbci.co.uk/r2.512/BBCReithSans_W_ExBd.woff") format("woff")}@font-face{font-display:swap;font-family:"ReithSans";font-style:italic;font-weight:800;src:url("https://gel.files.bbci.co.uk/r2.512/BBCReithSans_W_ExBdIt.woff2") format("woff2"),url("https://gel.files.bbci.co.uk/r2.512/BBCReithSans_W_ExBdIt.woff") format("woff")}@font-face{font-display:swap;font-family:"ReithSerif";src:url("https://gel.files.bbci.co.uk/r2.512/BBCReithSerif_W_Rg.woff2") format("woff2"),url("https://gel.files.bbci.co.uk/r2.512/BBCReithSerif_W_Rg.woff") format("woff")}@font-face{font-display:swap;font-family:"ReithSerif";font-style:italic;src:url("https://gel.files.bbci.co.uk/r2.512/BBCReithSerif_W_It.woff2") format("woff2"),url("https://gel.files.bbci.co.uk/r2.512/BBCReithSerif_W_It.woff") format("woff")}@font-face{font-display:swap;font-family:"ReithSerif";font-weight:bold;src:url("https://gel.files.bbci.co.uk/r2.512/BBCReithSerif_W_Bd.woff2") format("woff2"),url("https://gel.files.bbci.co.uk/r2.512/BBCReithSerif_W_Bd.woff") format("woff")}@font-face{font-display:swap;font-family:"ReithSerif";font-style:italic;font-weight:bold;src:url("https://gel.files.bbci.co.uk/r2.512/BBCReithSerif_W_BdIt.woff2") format("woff2"),url("https://gel.files.bbci.co.uk/r2.512/BBCReithSerif_W_BdIt.woff") format("woff")}@font-face{font-display:swap;font-family:"ReithSerif";font-weight:300;src:url("https://gel.files.bbci.co.uk/r2.512/BBCReithSerif_W_Lt.woff2") format("woff2"),url("https://gel.files.bbci.co.uk/r2.512/BBCReithSerif_W_Lt.woff") format("woff")}@font-face{font-display:swap;font-family:"ReithSerif";font-style:italic;font-weight:300;src:url("https://gel.files.bbci.co.uk/r2.512/BBCReithSerif_W_LtIt.woff2") format("woff2"),url("https://gel.files.bbci.co.uk/r2.512/BBCReithSerif_W_LtIt.woff") format("woff")}@font-face{font-display:swap;font-family:"ReithSerif";font-weight:500;src:url("https://gel.files.bbci.co.uk/r2.512/BBCReithSerif_W_Md.woff2") format("woff2"),url("https://gel.files.bbci.co.uk/r2.512/BBCReithSerif_W_Md.woff") format("woff")}@font-face{font-display:swap;font-family:"ReithSerif";font-style:italic;font-weight:500;src:url("https://gel.files.bbci.co.uk/r2.512/BBCReithSerif_W_MdIt.woff2") format("woff2"),url("https://gel.files.bbci.co.uk/r2.512/BBCReithSerif_W_MdIt.woff") format("woff")}@font-face{font-display:swap;font-family:"ReithSerif";font-weight:800;src:url("https://gel.files.bbci.co.uk/r2.512/BBCReithSerif_W_ExBd.woff2") format("woff2"),url("https://gel.files.bbci.co.uk/r2.512/BBCReithSerif_W_ExBd.woff") format("woff")}@font-face{font-display:swap;font-family:"ReithSerif";font-style:italic;font-weight:800;src:url("https://gel.files.bbci.co.uk/r2.512/BBCReithSerif_W_ExBdIt.woff2") format("woff2"),url("https://gel.files.bbci.co.uk/r2.512/BBCReithSerif_W_ExBdIt.woff") format("woff")}