Israel has again closed a major border crossing into Gaza after Palestinian militants fired a barrage of mortars and rockets into southern Israel.
Two people – believed to be Thai agricultural workers – were killed and 10 were injured on the Israeli side.
The crossing had been opened to allow entry to aid lorries from Jordan. A separate convoy entered from Egypt.
A UN spokesperson said the Kerem Shalom crossing with Israel was a crucial link to get help to those in need.
At least 212 people, including almost 100 women and children, have been killed in Gaza, according to its health ministry. In Israel 12 people, including two children, have been killed, its medical service says.
On Tuesday Israel said at least 150 militants were among those killed in Gaza. Hamas, the Palestinian militant group that runs the territory, does not give casualty figures for fighters.
Israeli forces again shelled Gaza on Tuesday, the ninth day since the current violence began, while Palestinian militants fired a barrage of mortar shells into Israel.
The UN humanitarian agency Ocha said 52,000 people in Gaza had been displaced, of whom 47,000 had fled to UN schools.
What happened at the border crossing?
Earlier on Tuesday, Israel opened the Kerem Shalom crossing to allow aid into Gaza. The UN welcomed the decision, but also urged Israel to open the main Erez crossing, so that humanitarian workers, as well as supplies, could get in.
However, as the convoy of aid lorries entered Gaza, Palestinian militants fired mortars at the area. Two Thai nationals working on a farm 14km (nine miles) from the border were killed.
As a result, Israel closed the crossing again.
An Israeli soldier near Erez was slightly injured, the Israeli military said.
Meanwhile at the Rafah crossing with Egypt, the only entry point to Gaza not controlled by Israel, a separate convoy of 15 lorries carrying fuel and 18 loaded with food and medicine entered the territory.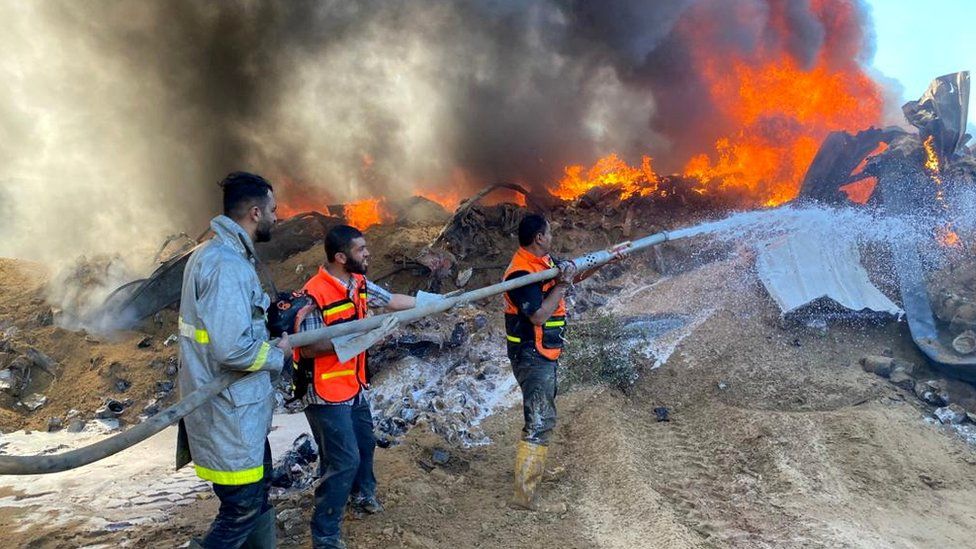 General strike
Separately, there have been clashes between Palestinian protesters and Israeli security forces in the West Bank town of Bethlehem and at the Damascus Gate, in the Old City of Jerusalem.
In Bethlehem, police used tear gas against demonstrators, who were supporting a general strike by Palestinians and Israeli Arabs.
Public services and schools have been closed because of the strike. Palestinian businesses were shuttered across East Jerusalem, as well as parts of Haifa and other Arab-majority areas in Israel.
Earlier, a Palestinian man was shot dead in the city of Hebron by Israeli troops who accused him of attempting to stab them.
An Israeli soldier was slightly injured by Palestinian mortar fire near the Erez crossing between Gaza and Israel.
The US, the EU and other powers have called for an end to the conflict. Egypt has been seeking to mediate between Israel and Hamas, which runs Gaza.
However, Israel has said it will continue its offensive for now, in an effort to destroy the capabilities of Hamas and Islamic Jihad.
Israel estimated that at the start of the conflict, the two Palestinian militant factions had an arsenal of about 12,000 rockets or mortars in Gaza. As of 15:00 GMT on Tuesday, militants had fired some 3,300 rockets at Israel, of which 450 to 500 fell short, causing casualties in Gaza, an Israeli military spokesman said.
The UN Security Council is to hold an emergency meeting later on Tuesday.

What caused the violence?
The fighting between Israel and Hamas was triggered by days of escalating clashes between Palestinians and Israeli police at a holy hilltop compound in East Jerusalem.
The site is revered by both Muslims, who call it the Haram al-Sharif (Noble Sanctuary), and Jews, for whom it is known as the Temple Mount. Hamas demanded Israel remove police from there and the nearby predominantly Arab district of Sheikh Jarrah, where Palestinian families face eviction by Jewish settlers. Hamas launched rockets when its ultimatum went unheeded.
Palestinian anger had already been stoked by weeks of rising tension in East Jerusalem, inflamed by a series of confrontations with police since mid-April.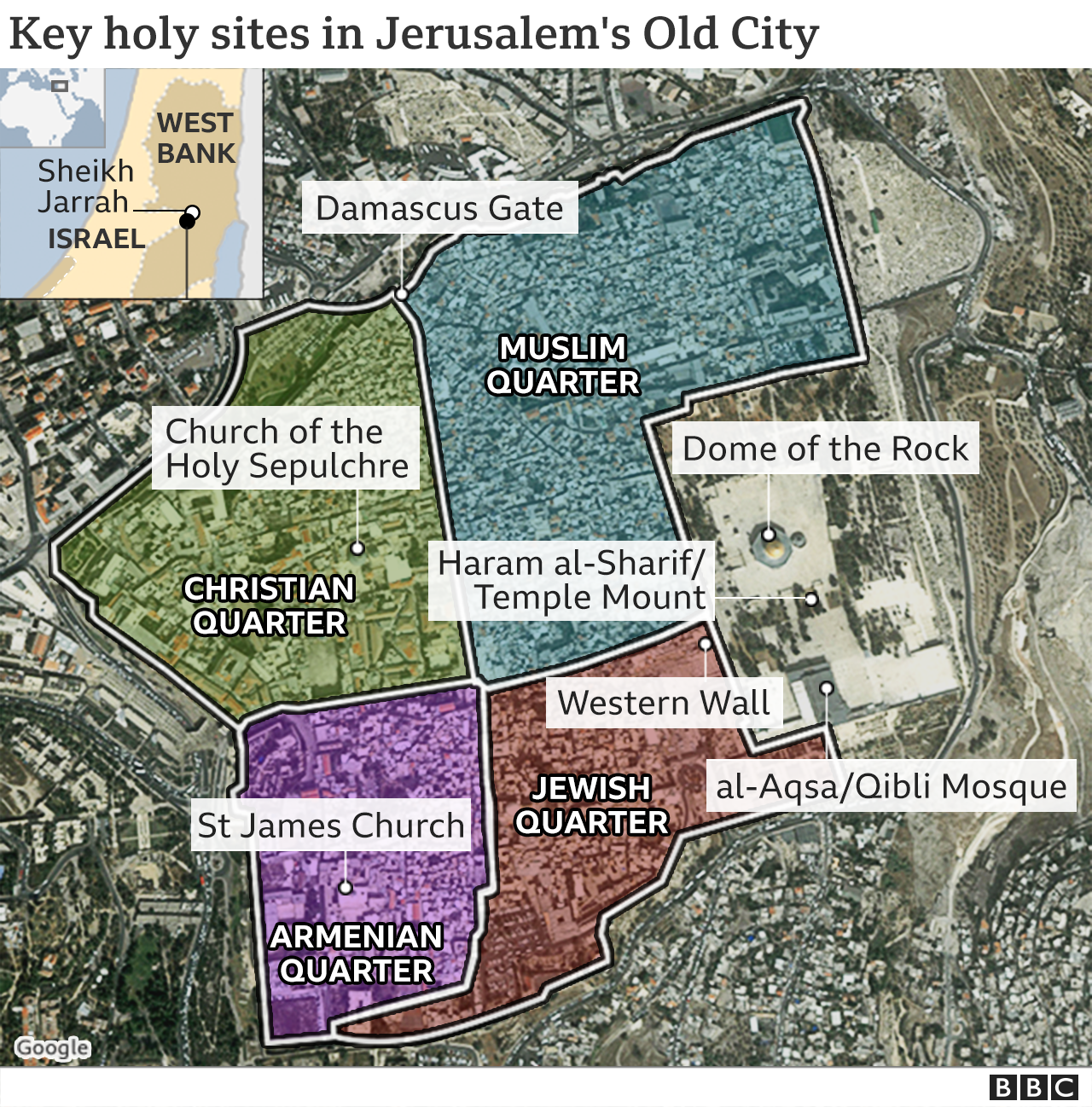 It was further fuelled by Israel's annual celebration of its capture of East Jerusalem in the 1967 Middle East war, known as Jerusalem Day.
The fate of the city, with its deep religious and national significance to both sides, lies at the heart of the decades-old Israel-Palestinian conflict. Israel in effect annexed East Jerusalem in 1980 and considers the entire city its capital, though this is not recognised by the vast majority of other countries.
Palestinians claim the eastern half of Jerusalem as the capital of a hoped-for state of their own.