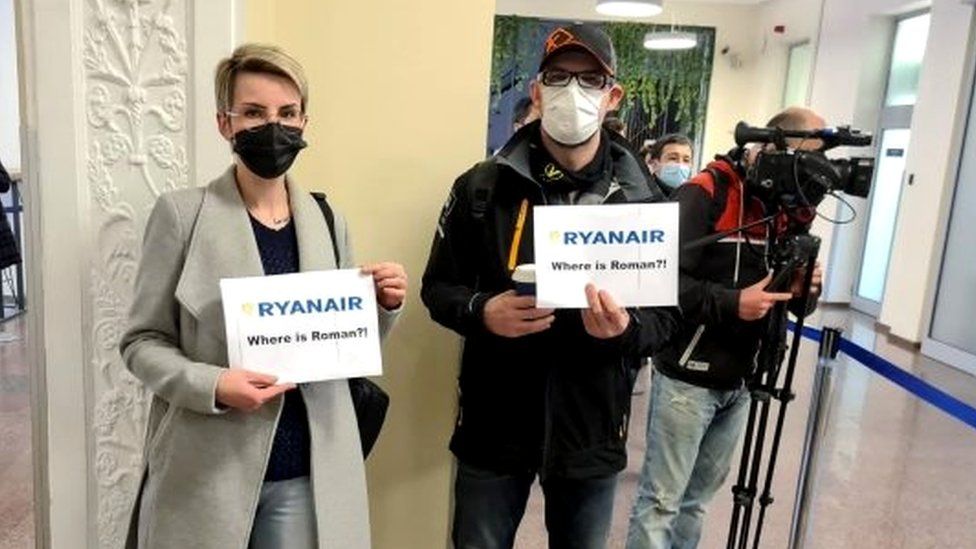 A Ryanair plane flying from Greece to Lithuania has been diverted to Belarus, with the country's opposition figures saying it was done so a dissident journalist on board could be arrested.
The Nexta media network said its ex-editor Roman Protasevich was detained.
Belarus state media said the plane was diverted to Minsk because of a bomb scare but no explosives were found.
European nations have reacted with outrage, accusing Belarus of "state terrorism" and demanding punishment.
Political figures across Europe have already called for the EU and Nato to intervene.
UK Foreign Secretary Dominic Raab warned the "outlandish action" would have "serious implications".
Belarus opposition leader Svetlana Tikhanovskaya, who was beaten by Alexander Lukashenko in presidential polls last year widely denounced as rigged, was among those demanding Mr Protasevich's release.
Since August's election, 66-year-old Mr Lukashenko, who has ruled the country since 1994, has cracked down on dissenting voices. Many opposition figures have been arrested or, like Ms Tikhanovskaya, fled into exile.
The plane has now left Minsk, Belarus's capital, for Lithuania, after spending several hours on the ground.
How was the flight diverted?
Flight FR4978 was en route from Athens to the Lithuanian capital Vilnius on Sunday when it turned east to Minsk shortly before it reached the Lithuanian border. Greece and Lithuania put the number of passengers on board at 171.
In a statement, Ryanair said that the crew were "notified by Belarus (Air Traffic Control) of a potential security threat on board and were instructed to divert to the nearest airport, Minsk".
Ryanair said checks in Minsk found "nothing untoward" and the aircraft was cleared to depart after about five hours on the ground.
"Ryanair has notified the relevant national and European safety and security agencies and we apologise sincerely to all affected passengers for this regrettable delay which was outside Ryanair's control," it added.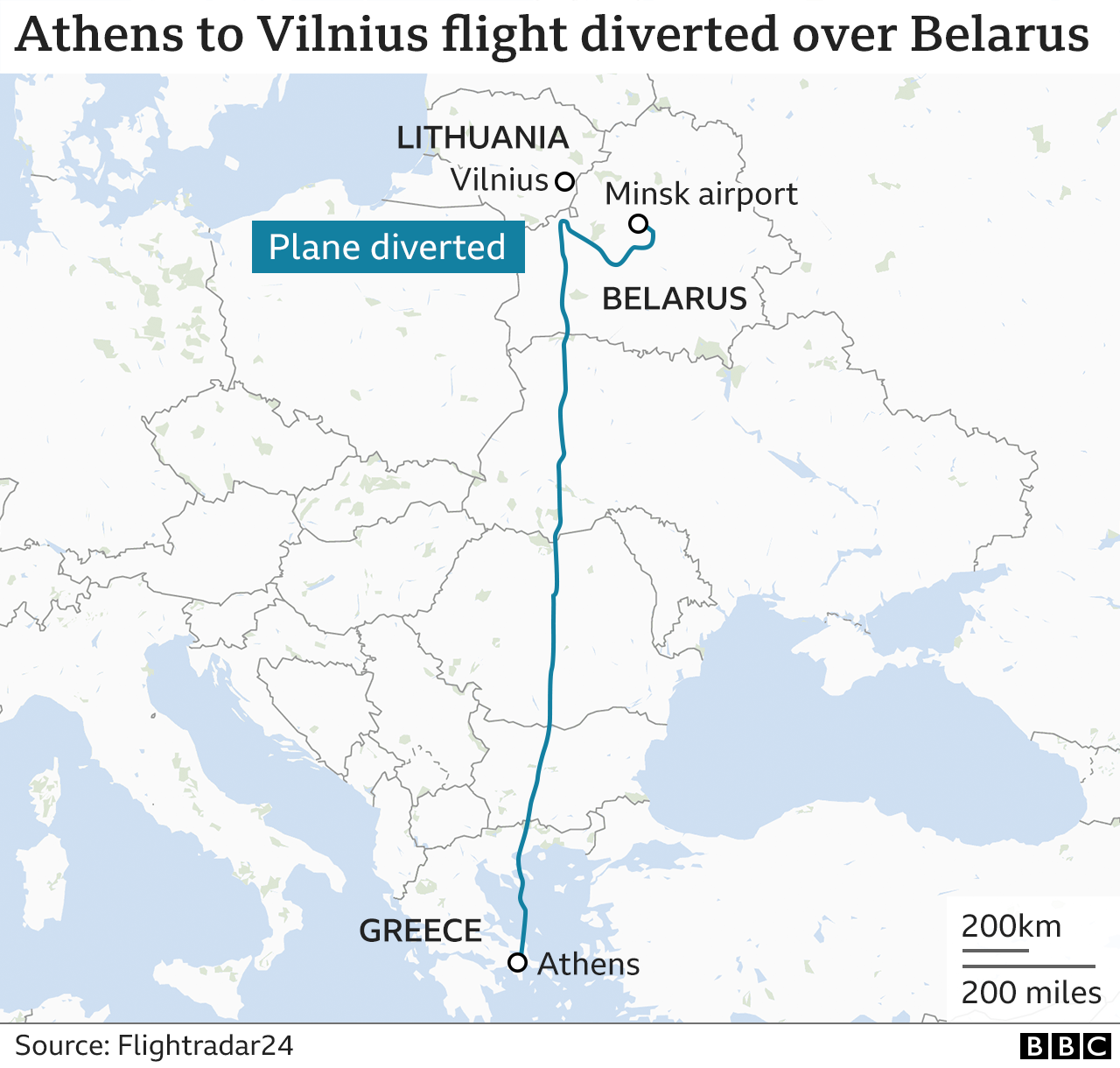 The Ryanair statement made no mention of Mr Protasevich.
Nexta editor-in-chief, Tadeusz Giczan, tweeted a quote from a passenger on the plane who said that Mr Protasevich had told them who he was once they were on the ground at Minsk, with him adding "they'll execute me here".
What has the reaction been?
It has been angry and it is growing.
Lithuanian President Gitanas Nauseda accused Belarus of an "abhorrent action".
Unprecedented event! A civilian passenger plane flying to Vilnius was forcibly landed in #Minsk. Belarusian political activist & founder of @NEXTA_EN was on the plane. He is arrested. 🇧🇾 regime is behind the abhorrent action. I demand to free Roman Protasevič urgently!

— Gitanas Nausėda (@GitanasNauseda) May 23, 2021

Latvia's Foreign Minister Edgars Rinkevics said Belarus's action was "contrary to international law" and the reaction should be "strong and effective".
Greece and France expressed anger. Poland's Prime Minister Mateusz Morawiecki said: "Hijacking a civilian plane is an unprecedented act of state terrorism that cannot go unpunished."
The UN's agency for civil aviation, ICAO, said it was concerned about an "apparent forced landing" which could be "in contravention of the Chicago Convention" which sets out the rules on airspace and aircraft safety.
In the UK, Tom Tugendhat, chairman of the House of Commons foreign affairs committee, said that "forcing an aircraft to land to silence opposition voices is an attack on democracy".


We do not yet know the full details of this story but its implications could be huge.
There are questions about freedom of the air: how vulnerable may other flights be to this kind of behaviour? Some are already calling it an act of aggression or state terrorism, a form of hijacking. In how much danger were the passengers placed? What precedent may be set? Should flights be diverted away from Belarus airspace?
There are questions for international law: to what extent was this act unlawful, as many presume, and if so, what consequences should there be? There are questions about freedom of speech: will critics of other authoritarian regimes fear this could happen to them?
And there are questions for international diplomacy. Political figures across Europe have already called for the EU and Nato to intervene. There are demands for further sanctions to be imposed on the government of Belarus, whose legitimacy is questioned by many in the West after disputed elections last year. President Lukashenko is often described as Europe's last dictator. Will the word "pirate" now be added to his list of titles?

Who is Protasevich and what is Nexta?
Nexta is a media operation with a Telegram channel, and has visibility on Twitter and YouTube.
It played a key role for the Belarus opposition during the election and has continued to so in its aftermath, particularly with the government imposing news blackouts.
Ms Tikhanovskaya said Mr Protasevich, 26, had left Belarus in 2019 and covered the events of the 2020 presidential election with Nexta, after which criminal charges were filed against him in Belarus.
She said he faced the death penalty in Belarus as he has been categorised as a terrorist.
Western leaders have backed Ms Tikhanovskaya, who claimed victory in the election before she was forced to leave for Lithuania. She had become a candidate after her husband was jailed and barred from running.
Tens of thousands of protesters thronged the capital Minsk for months last year, furious at Mr Lukashenko's declaration of victory. There have been numerous cases of police brutality and some 2,700 prosecutions this year alone.