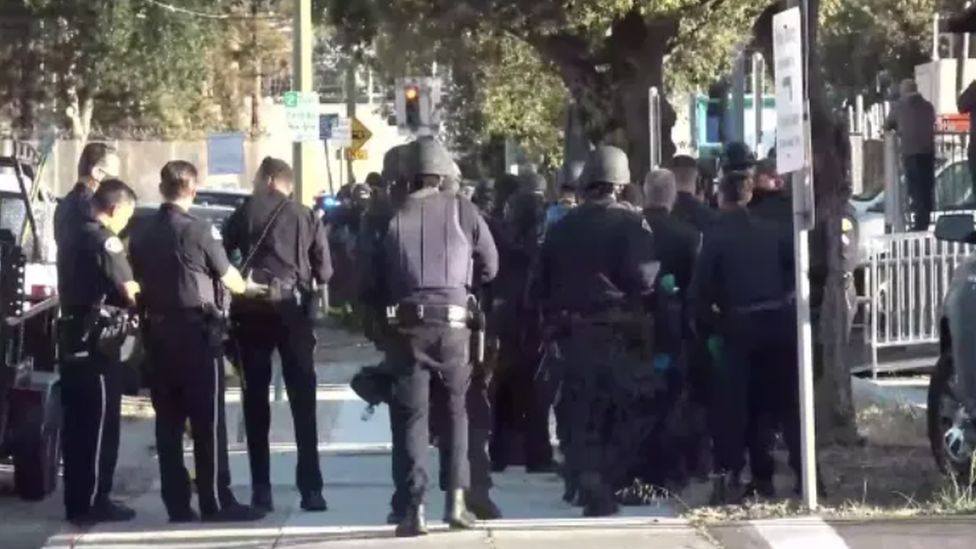 A gunman has opened fire in a commuter train yard in California, killing "multiple" people, police say.
The shooting took place at the Santa Clara Valley Transportation Authority rail yard in San Jose on Wednesday.
The suspect is also deceased, police say, and the scene is safe. The victims include transit employees.
In a news conference, police officials said the scene is still being investigated and more details will be released soon.
"We do have multiple victims and multiple casualties at this point," Santa Clara County Sheriff's Deputy spokesman Russell Davis said, adding: "I can't confirm the exact number but I can confirm multiple injuries and multiple fatalities at this point."
San Jose Mayor Sam Liccardo tweeted that the shooting "left several people being treated, but the situation is still being assessed.
"The shooter is no longer a threat, and the facility has been evacuated."
According to CBS News in San Francisco, at least six people were killed, but the number has not yet been confirmed by police.
The station reports that the shots broke out during an employee meeting for rail workers.
The shooting shut down traffic on nearby streets during the morning commute.
"We are in close contact with local law enforcement and monitoring this situation closely," California Governor Gavin Newsom tweeted.
Across the US, there have been 230 mass shootings so far this year, according to the Gun Violence Archive.
A mass shooting is defined by the group as a crime in which four or more people are fatally shot.
The Santa Clara Valley Transportation Authority (VTA) operates three train lines, making up over 40 miles (65km) of rail. They also operate about 70 bus lines in the city.