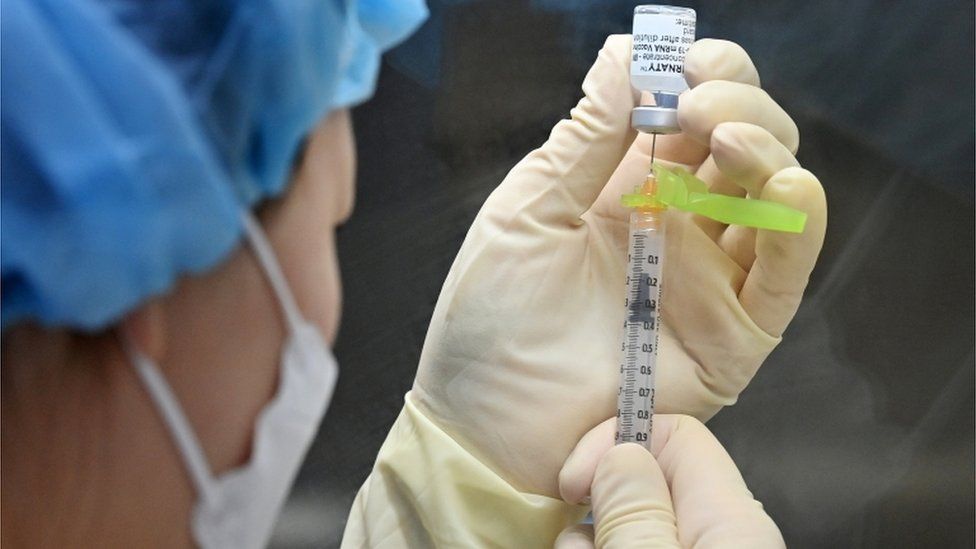 A South Korean mayor who almost fell for a vaccine scam has publicly apologised for his actions.
Kwon Young-jin told the media last month that a foreign company had promised to provide 30 million doses of the Pfizer-BioNTech vaccine within three weeks.
But the government later found that Pfizer does not distribute through third-parties.
Mr Kwon has been critical of the government's vaccine programme.
South Korea has seen a relatively slow vaccine roll out, compared to other more developed economies in the region.
Some 16.4% of its population has received their first vaccine dose, with plans to vaccinate 14 million people by the end of the month.
Mr Kwon is a member of the opposition party.
"It was my mistake that this case regarded as one of the simple cases of a failed vaccine import has escalated into a fake vaccine fraud case," said Mr Kwon, according to a Yonhap news report.
"The image of Daegu was tarnished due to my careless words. I also caused deep wounds and disappointment to the citizens suffering from COVID-19."
Mr Kwon had on 31 May told reporters that an association of medical institutions in the city of Daegu had held negotiations with a foreign trading company to import 30 million Pfizer doses.
The Medi-City Daegu Council and the trading company reportedly exchanged documents, and this was later transferred to the Ministry of Health and Welfare.
But the government found this vaccine proposal had "reliability issues", noting that Pfizer only supplied its vaccines to central governments and international health organisations.
Pfizer later added that it did not authorise any entity to supply the vaccine to Korea, adding that it would launch an investigation into this.
The Health and Welfare minister's policy advisor later indicated in a Facebook post that the purported address of the company appeared to be in Florida, and that its phone number was traced to Portugal, according to a report by Joong Ang Daily.
Mr Moon's ruling party reportedly responded by saying that the incident had "damaged the country's international image".
South Korea saw more than 600 cases on Wednesday, as it struggles to battle a series of sporadic cluster infections.
It initially won praise last year for its strong response to the virus, using contact tracing to stop outbreaks.