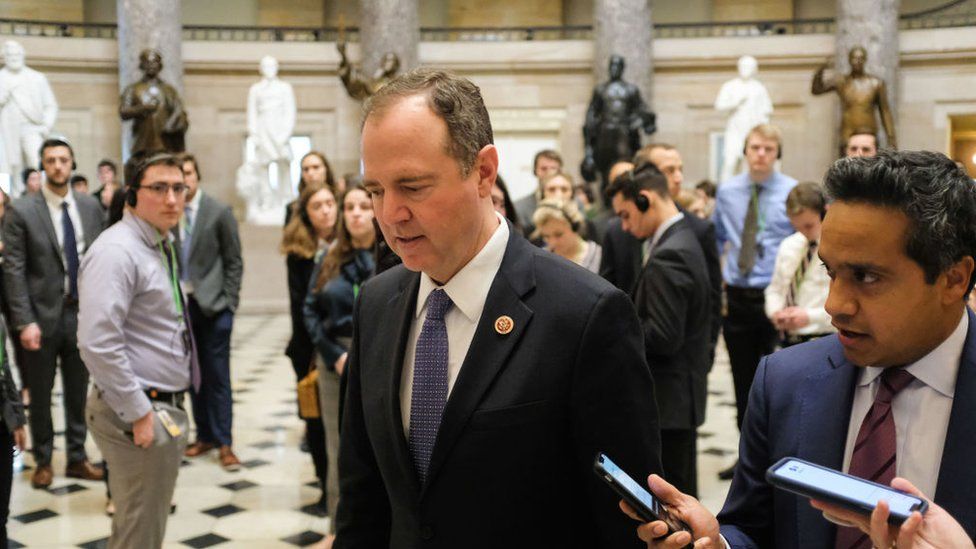 Democrats have demanded a probe into reports that officials acting under former President Donald Trump seized lawmakers' Apple account information.
According to The New York Times, prosecutors subpoenaed the tech giant for account data for at least two House Intelligence Committee members.
Representative Adam Schiff – now the committee's chairman – was reportedly one of those targeted.
Top Democrat Nancy Pelosi called the report "harrowing".
"These actions appear to be yet another egregious assault on our democracy waged by the former president," the House speaker said in a statement. She said she supported calls for an investigation, adding: "Transparency is essential."
On Thursday night, representative Eric Swalwell told broadcaster CNN that he was another Democrat targeted. He confirmed that family members' information – including a child's – were also obtained.
Trump repeatedly demanded the DOJ go after his political enemies.

It's clear his demands didn't fall on deaf ears.
 
This baseless investigation, while now closed, is yet another example of Trump's corrupt weaponization of justice.

And how much he imperiled our democracy.

— Adam Schiff (@RepAdamSchiff) June 11, 2021

According to the New York Times report, prosecutors under former Attorney General Jeff Sessions made the request for Apple data in 2017 and early 2018. They were reportedly looking for the source of news reports about contacts between Russia and associates of Republican President Trump.
The Justice Department also managed to get a gag order to stop Apple from telling those involved, the paper said. That order only expired this year, and Apple reportedly told the targets last month.
None of the data seized tied any of the Democrats, their aides or their family members to the leaks, the New York Times said.
US intelligence agencies say that Russia worked to help Donald Trump's election campaign in 2016 against Hillary Clinton. He and his campaign were later accused of colluding with Russia in this effort.
Former FBI director Robert Mueller led an inquiry into the allegations, eventually concluding that there was no evidence of a conspiracy – but some 10 instances when Mr Trump possibly obstructed justice.